KRAUSHAAR MEDIA

VANCOUVER, WA
Walddunen is a retreat for couples only on the North Oregon coast. The home is at Sunset Beach, between Seaside and Astoria. It's laid back, and off the beaten track!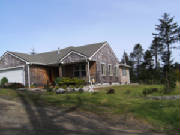 Walddunene Haus - Sunset Beach
Link to Walddunen Beach House Website
The home page of Peter Michael Kraushaar. On the left you'll find a link to the station I operate, KBFD-FM 104.9 at Sunset Beach, Oregon. There are links to Kraushaar and Korte family genealogy back to the year 1330, & links to some of the other organizations I belong to or support. Below you'll find a link to my resume, featuring 25 years of radio, law enforcement, investigations and security, a link to the radio museum, and a link to listen to my Rock N' Roll show that you can listen to on the net or on 92.7 in Globe, Arizona and 105.1 in the Phoenix metro area.
104.9 FM Sunset Beach
Serving the entire world on the Net!
Tune In on the Pacific Radio & KBFD-FM 104.9 Home Page
Did you have a funky old sound system like this?
Then you're old enough to enjoy the Radio Museum

Class is in session. It's time for your Radio History lesson....